Access Critical EEG Data Anywhere, Anytime with Stratus EEG™
THE ONLY TRUE CLOUD-BASED, CLINICAL EEG SOFTWARE SOLUTION ON THE MARKET.
Stratus EEG™ is comprehensive software specifically designed to support and enhance the acquisition, review, analysis, and reporting of EEG data. Stratus EEG software was developed with deep input from neurologists, epileptologists, and EEG technicians around the globe to meet their needs and improve the clinical workflow in both the inpatient and ambulatory settings. The software is the first fully cloud-based solution, which provides state-of-the-art technology and tools through an intuitive, user-friendly interface. Stratus EEG includes advanced security features that meet the highest standards to protect patient information and data integrity.
Stratus EEG can be found in hospitals, clinics, private practice offices, intensive care units, neonatal care units, emergency departments, epilepsy monitoring units, and pharmaceutical clinical trials worldwide.
Supporting the Clinical EEG Workflow
Stratus EEG's monitoring and review cloud-based software manages the full range of clinical EEG modalities, including routine, ICU, EMU, and long-term ambulatory. The secure cloud service allows physicians to review and annotate EEG and video data from any approved device with an internet connection, via the Stratus cloud or a healthcare system's internal network. Highlights of the feature-rich software include:
Features for quick review of everyday routine EEGs
Advanced analytics and trending options for the ICU, surgical planning, and research
Fully synchronized HD video and audio capability for up to two cameras
User ability to configure preferred settings including customized perspectives and montages via a visual editor
Superior paging speed to desktop solutions
Compatibility with file formats of all major EEG equipment vendors, allowing the user to operate one EEG database for all patient recordings
Secure and convenient patient record storage
The First Cloud-Based EEG Platform
Stratus EEG is the world's first web-based EEG platform with the ability to connect to any WiFi-enabled device via a hospital's internal network or via the Internet for remote access to data. Stratus EEG cloud service is based on proprietary software and was developed according to international standards and regulations, with data integrity and accessibility as a high priority. Our team of technicians and engineers work diligently to ensure the continued quality of Stratus EEG, as well as keep it in compliance with the latest GDPR, HIPAA, and other data security regulations.
Data Security Features
Powerful permission model based on user groups and roles
Single-sign-on solution using Active Directory integration or SAML 2.0
Secure data-sharing capabilities across multi-site environments
HIPAA and GDPR-compliant solution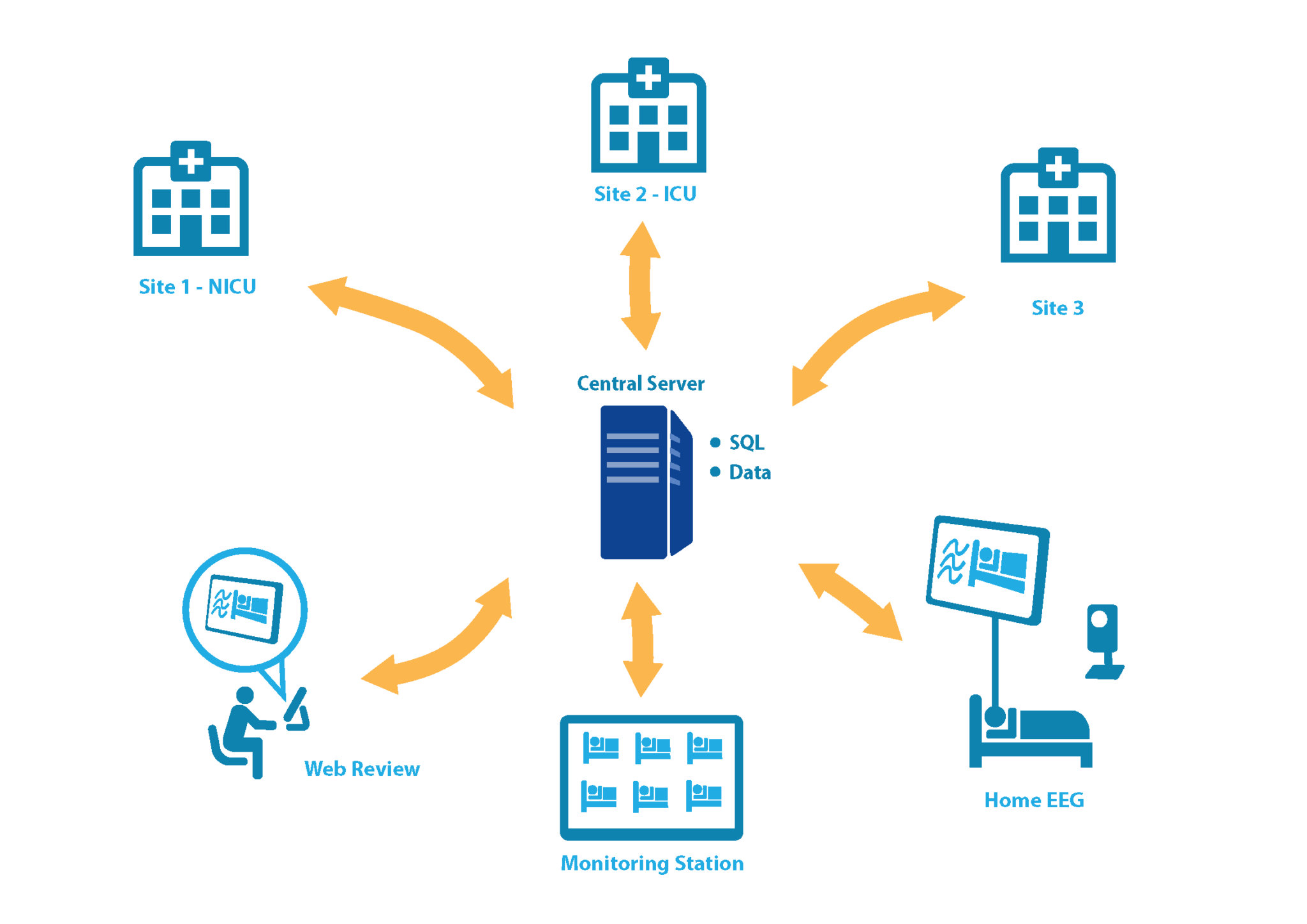 Grounded in Deep Experience
Stratus EEG™ software was developed by Kvikna Medical in 2008 out of a vision to improve the access and useability of software in the EEG field. With over 100 years of combined experience, the team that originally created the NicoletOne™ system has built EEG software that allows access to EEG data anywhere in the world. The Kvikna Medical team consists of engineers and developers with an ongoing commitment to fulfilling user needs and improving the EEG software experience for all users.
Driven by a strong commitment to advancing the EEG industry with cutting-edge solutions, Kvikna Medical and its parent company, Stratus, are proud that Stratus EEG solutions are now being used across the globe.
How to Purchase 
Stratus EEG software is currently approved for use in the European Union, Middle East, United States, and the United Kingdom. Stratus EEG is available through a software-as-a-service model with unlimited individual review licenses, making it a highly cost-effective solution for individual practices and large hospitals.
To learn more about the software and how to purchase contact:
In the U.S., please email stratussoftwaresolutions@stratusneuro.com
In the EU or Scandinavia, contact Cephalon
In the Middle East, contact Neurovation
In the United Kingdom, contact Nervus
If you are outside of these regions or looking to become a distributor of Stratus EEG, please contact us directly using the contact us page.